Operation RoundUP
Operation RoundUP is a Jackson Energy program that gives individuals like yourself the opportunity to improve their community. It is people helping people – people like you providing a small contribution each month that will fund grants for civic organizations, volunteer fire departments and many other groups.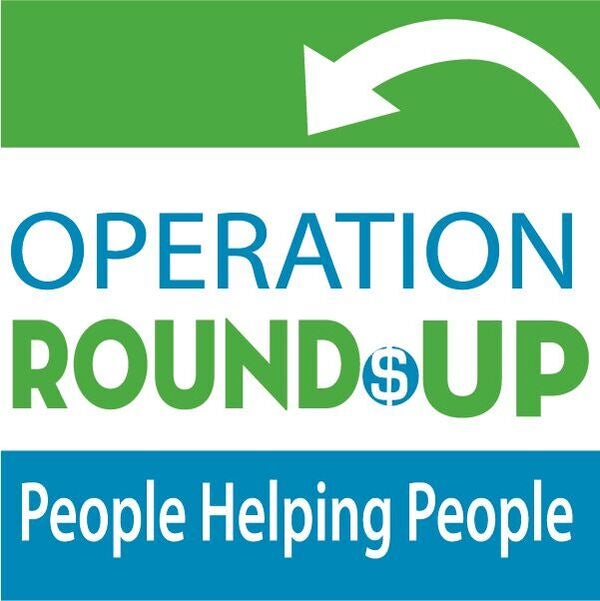 How does it work? Operation RoundUP is funded solely by Jackson Energy members who voluntarily choose to round their electric bill to the next highest dollar amount. The extra money, which averages around 50 cents a month, is applied to the Operation RoundUP fund. For example, if your total bill is $74.62, your bill would be rounded up to $75 with the extra 38 cents going to Operation RoundUP. Each month, the amount donated may range from one penny to 99 cents, with a maximum of $11.88, per year and is tax deductible. You can also make one-time donations by visiting your local office, or calling 800-262-7480 and letting a Member Services Representative know that you want to make the one-time donation to the Operation RoundUP fund.
How it the money administered?  Operation RoundUP is governed by a seven-member Board of Trustees who represent the seven primary counties served by Jackson Energy. The trustees operate independently from Jackson Energy Cooperative Board of Directors. The trustees receive and evaluate grant applications on a quarterly basis. 
If you would like to apply for the Operation Round Up Grant please visit the following link: Operation RoundUp
4-H Programs: Lee, Laurel, Estill, Rockcastle, Jackson, Clay, Owsley
Adult Education Programs: Owsley, Laurel, Jackson
Project Prom: Lee, Owsley
Lee County Sheriff's Department
Laurel County Life Center
Owsley County Schools Archery Team
Estill County Schools Community Excellence
Jackson County Farmers Market
Faith Christian Camp
Resurrection Home
Kentucky Mountain Mission
Lee County Diabetes Coalition
Emma Quire Mission Center
American Legion - Veteran's Memorial (Rockcastle)
Dark Honey Producers
Lee County Readifest
Youth Sports, Inc.
Estill Action Group
Rockcastle Arts Association
Clay County Emergency Management
Stay in Clay
Fogertown Fire Department
Gray Hawk Fire Department
McKee Fire Department
Pond Creek Fire Department
Sand Gap Fire Department
Beattyville Fire Department
Beattyville-Lee County Tourism Commission
Jackson County Kiwanis Club
Kentucky River Park & Recreation Area Board
Cumberland Valley FOP
Lee County Skills U
Owsley County Family Resource Center
Owsley County Skills U
Broadhead Elementary Family Resource Center
Climax Fire Department
RCMS Youth Service Center
Hospice Care Plus
Beattyville VFD
Clay County Middle School Softball
Roundstone Elementary FRC (Rockcastle)
Owsley County Senior Citizens; Center
Light Up Booneville (Owsley)
Hargett VFD (Estill)
Jackson Co. Senior Center
Coop Extension 4H Camp (2 Campers per County)
Warm Souls for Worn Soles (Clay)
DAV Jack Welch Chapter #165 (Jackson)
Jackson Co. Farmer's Market
KY Ballers Basketball
Lee County Volunteer Fire Department
Goose Rock Elementary School (Clay)
Brodhead Elementary PTG (Rockcastle)
Lee County Family Resource Center
Jackson County Loan Closet
Cumberland River Behavioral Health (Jackson)
Girl Scout Troop #661 (Estill)
Lee County- Resurrection Home
Estill County- Hargett Fire & Rescue
Clay County- Stay in Clay
Lee County- Lee County Volunteer Fire Department
Lee County- Tree of Love
Lee County- Trick or Treat on Main
Owsley County- Owsley County Senior Center
Laurel County- NLMS Family Resource Center
Rockcastle County- RCMS Youth Service Center
Rockcastle County- Rockcastle Arts Association
Jackson County- Adult Education Skills U
*Feel free to reach out to your county's board member regarding Operation RoundUP ONLY.